Aspherical hyper wide angle lens
Titel Foto: Bastian Kratzke
In our large family of noble fixed focal lengths with VM bayonet, the aspherical Hyper Wide Heliar offers the widest diagonal angle of view at 130 degrees, making it just as suitable for gripping reportage as it is for opulent landscapes and impressive architectural depictions.
Hyper wide-angle lens with aspherical lenses, 130° angle of view and exceptionally good distortion correction. Straight lines are largely captured as straight lines, enabling new forms of photographic expression without distorting the image as with a fisheye lens.
Optical calculation optimizes the angle of incident light to avoid color shifts at the edge of the image. Excellent contrast and resolution to the corners of the image, even at maximum aperture.
The extremely large depth of field means that almost no focus adjustment is required. For example, at a focus setting of 2 m and an aperture setting of f5.6, everything from 0.5 m to infinity is sharp; at a focus setting of 1 m and an aperture setting of f8, everything from 0.4 m to infinity is sharp. Note therefore for users who focus through optical viewfinders: This lens does not offer a mechanical distance coupling between camera and lens due to the extreme depth of field!
The minimum shooting distance from the subject to the image surface is 50 cm. This lens expands the possibilities for close-up shooting that takes advantage of the strong perspective characteristics of extreme wide-angle lenses.
A very precisely manufactured and adjusted all-metal body ensures smooth focusing with just the right amount of resistance. This allows for very precise focusing.
Uses the VM-mount lens mount, which is compatible with the Leica M-mount. This lens can not only be used on cameras with a rangefinder mount, but also mounts very well on mirrorless digital cameras with a mount adapter.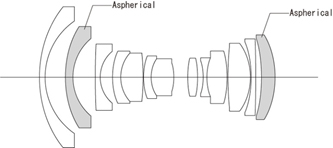 Technical specifications
Price: 1.049.- EUR
Art-Nr.: 19403
Focal Length
10 mm
Aperture Ratio
1:5,6
Minimum Aperture (F)
22
Lens Construction
13 elements in 10 groups
Angle of View
130°
Aperture Blades
10
Minimum Focus
0,5 m
Maximum Diameter
67,8 mm
Length
58,7 mm
Mount
M-bayonet (VM)
Weight
312 g
Filter Size
not availabe
Color
black
Others
Lens hood (non-detachable),
Pressure fit cap, rangefinder coupling not possible
That's something to be proud of!
These photos were taken with our 10mm/1:5,6 Hyper Wide Heliar aspherical VM:
No grid was found for: vm-10mmhwh.
Show us your work!
Send the photos, you took with the Voigtländer 10mm/1:5.6 Hyper Wide Heliar asph.*
.
Here you can upload your own photo